Vegasaur Toolkit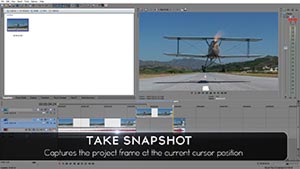 Vegasaur™ is an extension for Sony Vegas Pro, the professional non-linear editing system owned by Sony Creative Software.
Vegasaur delivers a plethora of automation tools and advanced scripts that enhance the functionality of Vegas Pro and tightly integrated with its interface, save your precious time and free you from tedious manual work. Don't waste your time - it's not worth it!
Our customers praised its versatility and high quality (average rating is 9.8 out of 10 based on 617 user votes)
Vegasaur Toolkit requires Sony Vegas Pro 11, 12, or 13
Unleash the power of Vegasaur and enhance your editing experience!
Save hundreds of clicks and countless minutes
Increase your productivity
Streamline the workflow
Automate frequent editing tasks and processes
Wealth of unique features at an affordable price
Must-have toolkit that makes using Vegas Pro so much easier, better and faster!
Current Version: 2.6 What's New
I tried the Vegasaur demo and then bought it, especially for the price. I already had another scripting extension and a lot of stand-alone scripts, but the extra functionality was worth it. For someone who doesn't have another scripting plug-in, Vegasaur would provide a lot of value for the money.
Dale McClelland
Vegasaur is more suitable for my job (small but very complex projects with tons of effects and compositing) then other products (I have also another popular scripting plug-in, but don't use it). 1-Click command buttons are very practical (I have entire toolbar filled with Vegasaur commands) - this organization is quite better then tabs. I really enjoy Video Wall, Quick Select and Quick Properties tools. Very helpful, stabile, continuous development. Communication is excellent.
Rafał Rafiński
Vegasaur contains features that Sony Vegas should contain itself. It's a big help for everyday professional work. Always when I screw up my project, Vegasaur offers some kind of help. There is no other collection of Sony Vegas scripts that can help in certain situations.
Ulrich Mors