Vegasaur Toolkit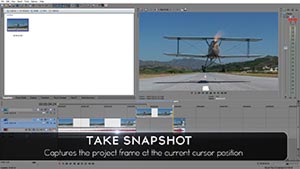 Vegasaur™ is an extension for VEGAS Pro, the professional non-linear editing system owned by MAGIX Software GmbH (previously, it was the property of Sony Creative Software).
We have developed this tool to save your precious time and free you from tedious manual work. Our customers praised its versatility and high quality.
Vegasaur delivers a plethora of automation tools and advanced scripts that enhance the functionality of Vegas Pro, speed up your workflow and make your work more productive. Don't waste your time - it's not worth it!
Current Version: 3.1.2 What's New
Vegasaur Toolkit 3.x requires Magix VEGAS Pro 14 or newer. Older versions of Sony Vegas Pro (8-13) can be powered with Vegasaur 2.x or 1.x. Your license file for version 3.x allows you to activate any previous version of Vegasaur. Click the button below to download and install the desired version.
Unleash the power of Vegasaur and enhance your editing experience!
Save hundreds of clicks and countless minutes. The longer you work with it, the more time it will save you.
Increase your productivity
Streamline the workflow
Automate frequent editing tasks and processes
Wealth of unique features at an affordable price
Must-have toolkit that makes using Vegas Pro so much easier, better and faster!
Just want to say that you guys has finally delivered truly useful plug-in... You have a few tools out there that does a few things, but you guys has made automation and features available for everything under the sun in one simple go. You have all done a wonderful job bringing this simple but feature rich tool in the hands of Vegas users. Simple things like unsplitting, render assistant, resetting loop region, etc. are not available in any other plug-in whatsoever, nor comes close. I recommend this gem to everyone. Keep up the GREAT work.
Steve Rhoden
I can tell you that I am really impressed with Vegasaur! I have tried just about all workflow enhancement plug-ins for Sony Vegas but wasn't quite satisfied with any of them and only recently found out about Vegasaur and I really like it! I am using more and more features as I edit, it is now an essential tool for me to have within Vegas. I recommend Vegasaur for everyone who is looking for the automation tool, because it's a wonderful addition to Vegas, the price is right and it saves you time. You also offer great support, I did have some bugs with Vegasaur and you always came up with some fix or answers. Great job!
Robert St-Onge
I bought Vegasaur for one reason only, the ability to batch render many different projects. I needed to convert a whole bunch of video clips, each save as their own project, into a couple of different formats each for internet downloads. Vegasaur makes it easy to cue all of them up into one batch, start it and go off to bed or do something else while it does its thing. That alone was worth the price for me! I would recommend it to anyone else with similar needs.
Stephen Sherrard