Vegasaur Toolkit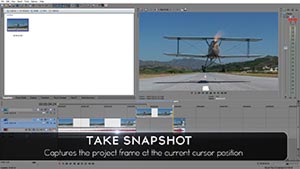 Vegasaur™ is an extension for Sony Vegas Pro, the professional non-linear editing system owned by Sony Creative Software.
Vegasaur delivers a plethora of automation tools and advanced scripts that enhance the functionality of Vegas Pro and tightly integrated with its interface, save your precious time and free you from tedious manual work. Don't waste your time - it's not worth it!
Our customers praised its versatility and high quality (average rating is 9.8 out of 10 based on 617 user votes)
Vegasaur requires Sony Vegas Pro 11 or newer
Unleash the power of Vegasaur and enhance your editing experience!
Save hundreds of clicks and countless minutes
Increase your productivity
Streamline the workflow
Automate frequent editing tasks and processes
Wealth of unique features at an affordable price
Must-have toolkit that makes using Vegas Pro so much easier, better and faster!
Current Version: 2.2 What's New
I can tell you that I am really impressed with Vegasaur! I have tried just about all workflow enhancement plug-ins for Sony Vegas but wasn't quite satisfied with any of them and only recently found out about Vegasaur and I really like it! I am using more and more features as I edit, it is now an essential tool for me to have within Vegas. I recommend Vegasaur for everyone who is looking for the automation tool, because it's a wonderful addition to Vegas, the price is right and it saves you time. You also offer great support, I did have some bugs with Vegasaur and you always came up with some fix or answers. Great job!
Robert St-Onge
Fantastic success! I downloaded Vegasaur (the 30-day free trial), and 4 minutes after I started it, I had all my subtitles (text events) exported to a neat text file, with the starting and ending time for each - clean, neat, and perfect!
Slava Paperno
Vegasaur contains features that Sony Vegas should contain itself. It's a big help for everyday professional work. Always when I screw up my project, Vegasaur offers some kind of help. There is no other collection of Sony Vegas scripts that can help in certain situations.
Ulrich Mors