Vegasaur Toolkit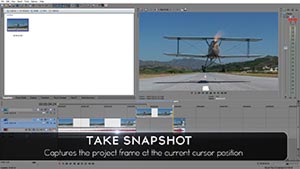 Vegasaur™ is an extension for VEGAS Pro, the professional non-linear editing system owned by MAGIX Software GmbH (previously, it was the property of Sony Creative Software).
We have developed this tool to save your precious time and free you from tedious manual work. Our customers praised its versatility and high quality.
Vegasaur delivers a plethora of automation tools and advanced scripts that enhance the functionality of Vegas Pro, speed up your workflow and make your work more productive. Don't waste your time - it's not worth it!
Current Version: 3.3.3 What's New
Vegasaur Toolkit 3.x requires Magix VEGAS Pro 14 or newer. Older versions of Sony Vegas Pro (8-13) can be powered with Vegasaur 2.x or 1.x. Your license file for version 3.x allows you to activate any previous version of Vegasaur. Click the button below to download and install the desired version.
Unleash the power of Vegasaur and enhance your editing experience!
Save hundreds of clicks and countless minutes. The longer you work with it, the more time it will save you.
Increase your productivity
Streamline the workflow
Automate frequent editing tasks and processes
Wealth of unique features at an affordable price
Must-have toolkit that makes using Vegas Pro so much easier, better and faster!
Fantastic success! I downloaded Vegasaur (the 30-day free trial), and 4 minutes after I started it, I had all my subtitles (text events) exported to a neat text file, with the starting and ending time for each - clean, neat, and perfect!
Slava Paperno
Vegasaur contains features that Sony Vegas should contain itself. It's a big help for everyday professional work. Always when I screw up my project, Vegasaur offers some kind of help. There is no other collection of Sony Vegas scripts that can help in certain situations.
Ulrich Mors
I've come through many plugs for my SV and I want to state one thing. They all call themselves ultimate, or superb, or absolute etc. etc. production assistants. They all cost above 100 USD but they all are worth s... nothing comparing to Vegasaur. It really has everything you need and much more, and I value it so much because I can see that fellows who created it really work on it to make it better and better. Fx plugs are different story but as far as about a production assistant plugin for SV Vegasaur is a must. Vegasaur and nothing more you need. Thank you so much guys!
Paweł Belter