Film Looks for Vegas Pro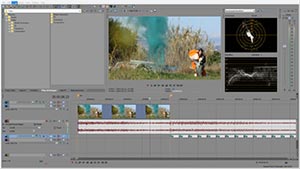 Film Looks is a visual effects plugin for Vegas Pro that helps editors to make their projects unique and attention-grabbing! It contains several professionally designed collections of ready-to-use presets and styles (aka film looks/cinematic looks/movie looks) that make projects look stunning. It is the fastest and easiest way to create the final look that meets your production needs.
Cinematize your video!
Film Looks is very easy to use. It doesn't require you to tweak anything. Just one click to give your project the mood and style. Grading presets provide a good starting point for advanced color grading work in Sony Vegas Pro. They can give footage highly stylized look or provide more simple adjustments (warming or cooling the footage etc). These presets together with film grain plates make your video look like film!
Fully Customizable
All cinematic looks are based around the standard OFX video filters. This ensures that you get all the benefits of GPU accelerated video processing and rendering. Moreover, you can tweak the individual settings of every filter and customize the preset. This means that your creative possibilities is pretty much unending. For the money, Film Looks is an amazingly great value!
Custom Presets
One of the cool things about Film Looks is its ability to save your color corrections and adjustments as presets so you can use them again later. Your own library of reusable grades can save you an abundance of time during editing. Free version allows you to create 10 custom presets. Registered users can save an unlimited amount of custom presets. Please note that this feature requires that all effects in a chain were OFX-compatible.
Film Looks requires Sony/Magix* Vegas Pro 11 or newer
* As of May 20, 2016 Sony Creative Software has sold Sony Vegas Pro to MAGIX Software GmbH.
Film Looks Bundle
All collections (100+ presets) are conveniently bundled together as a one-time download:
Film Looks Vol.1
Film Looks Vol.2
Film Looks Vol.3
Film Looks Vol.4
Film Looks Vol.5
Film Looks Free
Download Buy Now ($39.95) You save 60%*
* Limited time offer. Don't miss out!
More presets are coming soon...
Subscribe to our newsletter to be notified!