Film Grain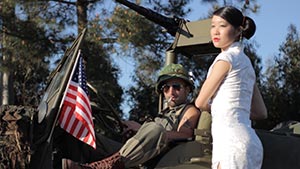 Film Grain is a set of real 35mm film grain scans that you can add to your own digital footage to make it look like a real film.
Like color grading presets, it is one of the ways to add an extra cinematic touch to your videos, allowing you to achieve the desired film look by simulating the texture of real photochemically processed film stocks.
Real film grain is not random noise! Read here What is the difference between digital high ISO noise and film grain?
Film grain overlays help to avoid color and luma banding that often occurs with denoised footage. Use them to minimize moire, remove the digital "plastic" look, make your DSLR footage look more "organic".
Turn digital video into film!
Film Grain assets can be used in any video editing software that supports Composite or Blend mode. Just place the desired film grain plate on a new track or layer on top of your footage and set the clip's blending mode to Overlay. Adjust the amount of film grain by lowering the clip or track opacity. You can also combine various grains for achieving the desired look, rotate them, mirror etc.
Why to choose our Film Grain overlays?
REAL FILM GRAIN taken from real 35mm analog source material
Available in 1920×1080 (1080p) and 4096х2304 (4K) resolutions at 23.976 fps (24p)
The duration of each film grain overlay is 20 seconds
Royalty Free
Do not alter the luminance or colors of your footage
Mac/PC support
Available for any video editing system supporting Blend or Composite mode:

Apple Final Cut Pro (including FCPX)
Adobe After Effects
Adobe Premiere Pro
Avid Media Composer
DaVinci Resolve
Sony Vegas Pro
and others

4 delivery formats available:

MOV H.264
Apple ProRes 422 HQ
Avid DNxHD
PNG image sequence (can be used with any frame rate)

Quick and easy, simply drag and drop!
Real-time rendering, unlike time consuming film grain plugins and filters
Affordable! The best quality for the price!
35mm Film Grain Packs
35mm Film Grain 4K

35mm Film Grain 1080p Full Pack

35mm Film Grain 1080p Mini Pack

35mm Film Grain 1080p ASA

35mm Film Grain Free
Organic Light Leaks | Organic Particles
16mm/8mm
film grain plates are coming soon...
Subscribe
to our newsletter to be notified!