ProDRENALIN: All-in-one solution for GoPro camera users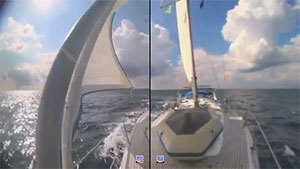 ProDRENALIN™ from proDAD® is a revolutionary enhancement utility that can improve just about every aspect of video shot on a GoPro or any other action camera. It removes fisheye and perspective distortion, stabilizes the video, corrects rolling-shutter distortion, rotates the video, reduces noise and much more.
It is a complete solution for making your raw action/sports videos better. The optimized video can be rendered in industry standard formats ready to be shared online or brought into your favourite video editing software. You can see the original and optimized video prior to rendering and exporting.
If you shoot on a GoPro or other action cam, you need ProDRENALIN. Capture your life's most amazing adventures and let ProDRENALIN polish things later!
ProDRENALIN is a stand-alone Windows application. There is also a 32-bit Mac version, which is a free bonus to the paid Windows version. Mac version does not support 2.7K & 4K resolutions and is offered "as is". Those who purchase the Windows version of ProDRENALIN can also use their license key to unlock the Mac version.
Why to choose ProDRENALIN?
Fully compatible with all GoPro Hero cameras
ProDRENALIN automatically corrects fisheye and perspective distortion
Stabilizes GoPro video with award-winning stabilization technology
Rolling-shutter correction
De-noising –

ProDRENALIN

effectively removes random image sensor noise and sharpens the video with 3 quality options
Easy to use color correction, brightness and contrast adjustment tools
Batch processing capability
Support for 4K and 2.7K videos
Imports profiles from proDAD Defishr
Affordable! The best quality for the price! (average rating is

9.6

out of

10

based on

918

user votes)